The 2022 Subaru Love Promise Community Commitment Award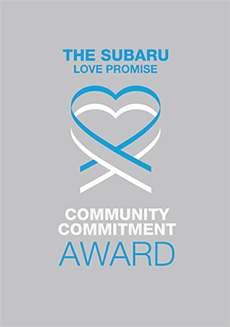 We've been nationally recognized for our dedication to our community and the Subaru Love Promise.
We're honored to receive the 2022 Subaru Love Promise Community Commitment Award. This award nationally recognizes Subaru retailers who are making the world a better place while demonstrating an outstanding commitment to supporting passions and causes in local communities. These efforts are focused in important areas such as the environment, community, health, education, and pets.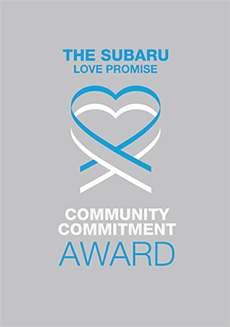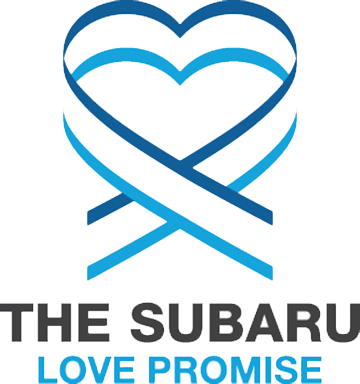 What is the Subaru Love Promise?
Subaru and our retailers believe in making the world a better place and the Subaru Love Promise is our vision of respecting all people. This is our commitment to show love and respect to our customers and to work to make a positive impact in the world.
How is Schaller Subaru dedicated locally to the Love Promise?
Our Love Promise can be seen in various partnerships with local charities and non-profits. We're grateful for the opportunity, not only to be a part of our community, but to serve it as well.
Connecticut Humane Society
New Britain Parks and Recreation
The Consolidated School District of New Britain, Berlin Public Schools, The Future's School
New Britain Parks and Rec, CT Special Olympics, Klingberg Family Centers, Futures Inc., The Kitchen at Futures, Good Cause Gifts
The Bristol Hospital Cancer Center, The Hospital for Special Care, The Hospital of Central Connecticut
Love Promise Stories from Schaller Subaru
Subaru and Schaller Subaru believe in making a positive impact on the communities in which we live and work. We uphold that belief through our Love Promise Community Commitment. Every month, we select inspiring stories from customers and partners from around our area who strive to support our collective commitment and feature them here
Schaller Subaru Loves Learning! - Vince G
On September 13th, Schaller Subaru visited Slade Middle school in New Britain to inform 6 lucky teachers they had been chosen as Adopt-A-Classroom.org recipients! These teachers, chosen by their vice-principal for their outstanding efforts, were given supply kits with essential classroom supplies as well as a monetary donation to help cover the out-of-pocket expenses that all teachers deal with. The teachers and staff at Slade were so appreciative and the team from Schaller Subaru truly enjoyed meeting these local educators and showing them our appreciation for all that they do!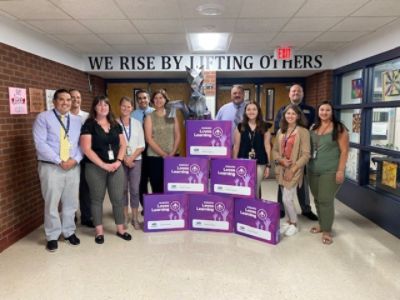 ---
Subaru supports cancer patients - Kate W
This July, the Bristol Hospital Cancer Care Center received beautiful blankets from Vince Giordano and his team at Schaller Subaru. The blankets are given to patients during their treatments in the infusion center. The sherpa blankets are so soft and cozy, definitely a step up from the standard issue hospital blankets. It's so nice that our patients get to keep them to have a soft quality blanket at home. Some cancer treatments make patients cold sensitive so the blankets truly meet the need of keeping them warm. The blankets are an extra touch of love and care that are definitely appreciated when you are receiving cancer treatment. Many thanks to Schaller Subaru from the patients and staff at Bristol Hospital Cancer Care Center!!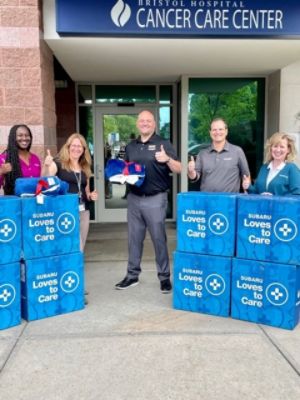 ---
Making Community Connections - Pamela D
With the generous support of the Share the Love Campaign and Schaller Subaru, Futures Inc. has another new Forester to add to its fleet at Good Cause Gifts, a retail social enterprise that employs people with disabilities. Our talented team of sales associates pack up the vehicle on a daily basis to deliver online orders and transport merchandise to vendor shows at local businesses and corporate offices. These community experiences help the individuals with disabilities we support to build relationships, establish valuable connections within the local community and acquire critical skills for social and employment success. Thank you Schaller Subaru for your continued support of our mission!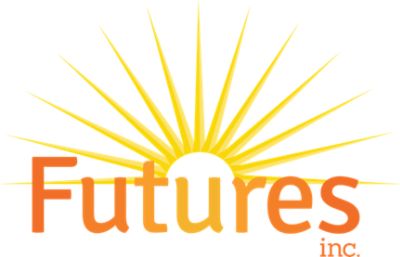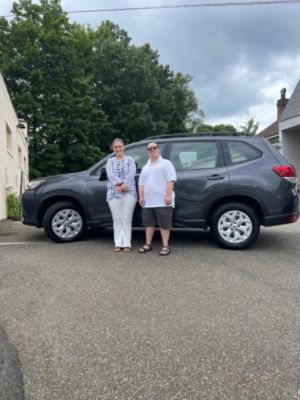 ---
Schaller Subaru Values Children and Families - Klingberg Family Centers L
Schaller Auto World has been supporting Klingberg Family Centers for decades in our work to give hope to children and families. As a family-owned business, Schaller cares about the mental health of families in our region, and understands the strong bond of families. As two New Britain–based, family-focused organizations, we both believe that each child is precious and deserving of a safe, caring home. Thanks to Schaller Auto World's generous support, Klingberg is able to strengthen, equip, and restore families whenever possible so that each child may receive the enduring love and guidance they need. As we work with children, youth, parents, and caregivers we are treating trauma and behavioral health issues and preparing and seeking safe and loving homes for over 1,000 children each year in our community. We are grateful to Schaller Subaru and Schaller Auto World and all their employees for the generous support. They have big hearts!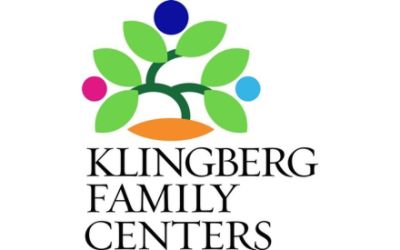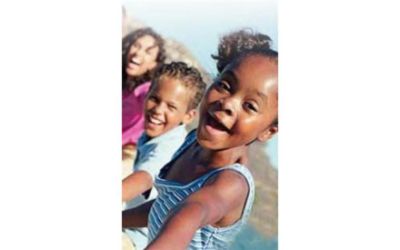 ---
Subaru Loves Pets – Connecticut Humane Society - Susan W
One look at Peter, and your heart would break. The kitten's eyes could barely open because they were full of gunk, breathing was hard because he was so congested, and he was thin even at his young age. An upper respiratory infection had taken over Peter's fragile body. Luckily, he made it to the Connecticut Humane Society just in time. He got lots of nurturing with the staff medical department, and soon, he looked like a brand new cat! His eyes were bright and alert, he filled out after getting nutritious food, and he constantly purred because he felt healthy again. And before long, he was adopted. That meant good news for another pet, too--that's because Schaller Subaru donated $100 in honor of his adoption, so another pet could have that same lifesaving care!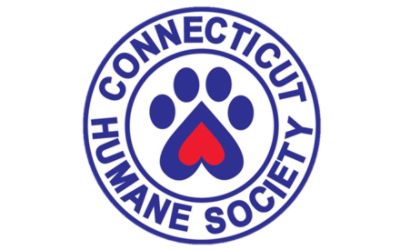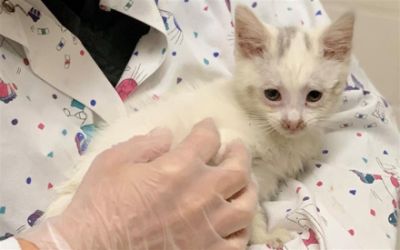 ---
Creating Jobs for Individuals with Disabilities - Pamela D
Futures Inc. has been successfully serving individuals with disabilities and their families for over 30 years. We are very proud to be able to deliver leading-edge services that empower the individuals we support to live life to the fullest and know the satisfaction of personal achievement. In order to achieve our mission, we are an agency on the go! You can find us all over Connecticut! Visit your local Farmer's Market and you may see our chefs in training selling their delicious home-made baked goods. Or, stop by one of our three Good Cause Gifts locations and ask one of our talented sales associates for help finding a special gift. And if you are out doing errands in the community, you may just pass one of our students on their way to a job site or a field trip. Wherever we go – Subaru gets us there safely and on time! We are fortunate to have the support of Schaller Subaru in Berlin who goes above and beyond to ensure our fleet of vehicles meets the needs of the students and adults with disabilities we support. During the past fifteen years, we have purchased 25 vehicles from Schaller for our agency fleet. In addition, several agency staff and family members have purchased Subarus from Schaller for their personal use. In 2020, we received a generous donation from the Share the Love Campaign. This allowed us to purchase an additional vehicle for The Kitchen, our culinary social enterprise. One of the newest Subaru vehicles we added to our lineup is a 2021 Forester. The Forester is the perfect fit for our catering business! With this additional vehicle, we were able to create new jobs for consumers to transport food from The Kitchen in Middletown to The Hospital for Special Care in New Britain. The Forester is also used to transport baked goods to local farmers markets and to make catering deliveries. We also traded in two older model Subaru vehicles for two new Foresters. The new vehicles allow us to provide safe transportation for individuals with significant disabilities to access their community and jobs. We are so pleased to have our new Foresters! A few days a week Lakiesha and her support provider make deliveries for Meals on Wheels. The Forester is the best car for Lakiesha. The seat belt is easier for her to buckle independently and she finds it much easier to get in and out of the car to make her deliveries. The trunk is so roomy, Lakiesha is thrilled that she can make even more deliveries each day! Ted and his support provider love using the new Forester to deliver products from The Kitchen in Middletown to the Cafe at the Hospital for Special Care in New Britain. Ted says the Forester is smooth ride and has plenty of room to hold the catering bins with all the delicious food he delivers. Ted is very proud to help serve the dedicated hospital workers who come to the Café for breakfast and lunch each day. Having the new Subaru Forester also helps Liz job share with her friend, Ted! Since deliveries need to occur five days a week, Ted works three days and Liz covers the other two days. Isn't job sharing great! Liz and her support provider not only deliver products to The Cafe at the Hospital for Special Care, but they also make deliveries to Futures' offices and our Good Cause Gifts retail locations. The size of the Subaru Forester is perfect for all these deliveries. It helps us cut down on the number of trips and save on gas! Andy and his support staff use the Forester to get to the Middletown Farmers Market on Fridays with all the display equipment and products he sells. The hatchback makes it easy to load up the pop-up tent, table, products, register and cash box. Andy loves to be out in the community and is especially proud to arrive at the market in the shiny new Forester! Futures so appreciates being selected for the upcoming 2021 Share the Love Campaign! We look forward to working with our partners at Schaller Subaru in Berlin to make the campaign even more successful this year!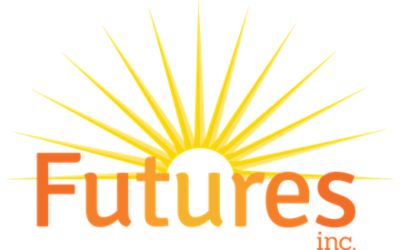 ---
Compassionate Salesman - Karen S
My husband passed away in September 2020 and my car was leaking when I went to leave my garage Christmas Day to go to a friend's house. She was kind enough to leave her food preparation and come pick me up. I took the car to my local repairman and it was the transmission. He told me it was time to replace my 1996 Buick. I went to Schaller a nervous wreck due to the recent passing of my husband and now needing a new vehicle. Dan Walker was my salesman. He was very kind and understanding. I wanted a Cool Gray Khaki color because my husband who recently passed away was a Marine and loved the color khaki. Dan got me the car and when I went to pick it up, once again I was a nervous wreck. My friend dropped me off, and here I was walking into the dealership to pick up my 2021 Subaru all alone. He was so understanding and patient and took the time to ensure I knew how to operate the car safely and also the radio and phone. He communicated with me a couple times afterwards to ensure I was comfortable and not having problems. He told me any problems I have, I can call or stop by. How reassuring to know I can stop in there with any questions. I heard nightmares about people buying these new cars with the new technology. I also had a nightmare when I bought my brand new Plymouth Volare in 1998. I am so happy with Schaller Subaru and Dan Walker. Dan is a God send. I love my Subaru! Karen Sztaba
---
A fresh start for pets - Susan W
Stubby wasn't a young pup, he couldn't do many stairs, and he wasn't up for a game of fetch. But this 7-year-old beagle still had a pep in his step and lots of love to give. This is the kind of pet Schaller Subaru supported through Subaru Loves Pets Month! Schaller donated $100 to the Connecticut Humane Society for each cat and dog adopted in October. Like Stubby! That month, he was adopted from CHS' Newington location and found a new family who appreciated his older age. He even became best friends with his dog sister from Day 1. And now, because of his adoption and Schaller's generosity, fresh starts are on the horizon for more pets! Visit CThumane.org for more information on the pets.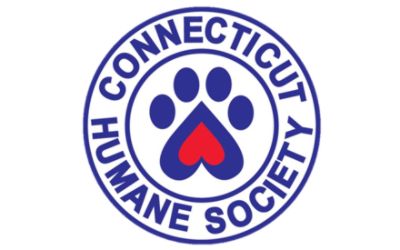 ---
Schaller Auto helps deploy Wi-Fi for students - Matt C
From May through August, the Consolidated School District of New Britain (CSDNB), in partnership with Schaller Auto, deployed dozens of vehicles equipped with Wi-Fi hotspots throughout New Britain to provide internet access for students who were not able to regularly engage in online learning, known as Continued Educational Opportunities (CEO). CSDNB transitioned to phase two of CEO on March 30, and students had been completing assignments through Google Classroom. Since schools initially closed on March 13 due to the COVID-19 outbreak, more than 2,700 virtual classrooms were created and activated. Further, approximately 90% of students engaged with their teachers since the district moved to online learning. However, there were still more than one thousand students (about 10%) who found it challenging to connect due to the lack of internet access in their homes. But, with the help of Schaller Auto, these students - who would have otherwise remained offline through the end of the school year and through summer school – were able to engage with their teachers and classmates. Once the hotspot networks were configured and installed in the vehicles, staff from Schaller Auto drove to neighborhoods lacking internet access, which were identified through surveys and internal data. They remained there Monday through Friday during specific parts of the school day. "Our primary goal during this time was to ensure that our students were engaged with their teachers, but unfortunately, many students were unable to do so because they could not connect to a Wi-Fi network," said Superintendent Nancy Sarra. "And while we were able to come up with a plan to acquire hotspots, we still needed a method to distribute the internet into the neighborhoods. That is where Art Schaller stepped in, graciously offering to utilize his vehicles and staff to help us ensure that all our students had access to the internet for the remainder of the 2019-2020 school year. We are incredibly grateful for Art's support and the willingness of his staff to take part as well."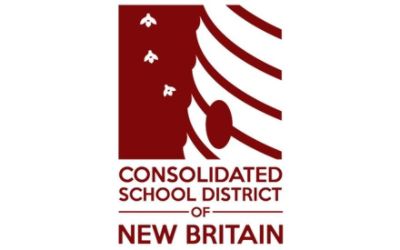 ---
Such a nice experience - Sarah C
I unexpectedly found myself in need of a new vehicle in the middle of the pandemic and was very concerned about the process and how I would be able shop for, test drive, negotiate and purchase a car considering the current limitations. I can honestly say that Jerry at Schaller Subaru in Newington Ct. made sure my experience was not only painless, but a truly enjoyable and exciting one. He was highly communicative, transparent and readily available to answer any and all questions I had along the way. He personally drove my car to my door and spent as much time as I needed explaining its features and the financing details etc. I can't say enough about my experience over all as well as Jerry as a person. Great job Jerry and Schaller for hiring such a stand up employee.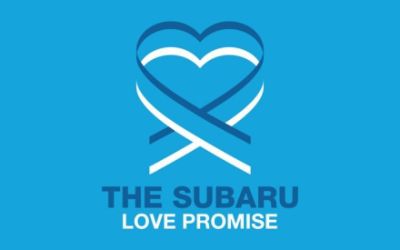 ---