Subaru and dogs are synonymous. The Japanese moniker is rooted in canine compatibility. Standardized AWD, cabin versatility and durable fabrics muster dog adventure. From dog-friendly designs to its pet causes like the ASPCA, Subaru loves its four-legged friends, and we at Schaller Subaru do too.
In an effort to show support for our dog lovers, we are the prime sponsor of the Connecticut Dog Magazine. Distributed throughout the Middletown region in retailers like Whole Foods, Stop & Shop and of course in our own showroom, this pup-lication is comprised of articles on dog training, wellness and adoptions. Our favorite section, however, is the Canine Smiles, where our customers and readers submit pictures of their pets.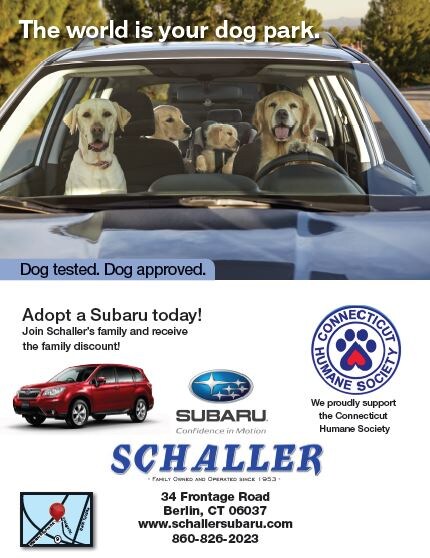 Pick up a magazine, submit a photo and hit the road in a new Subaru model, a ride both you and your dog approve of. Do it all here at Schaller Subaru in Berlin today.